Mermaid Body Swimsuit? Really?
My grand daughters loved the movie "The Little Mermaid" but they have never asked for a mermaid swimsuit. I have also known of an exotic dancer or two who had requested a mermaid 'costume'. A few celebs have been known to enjoy the mermaid look; or at least found it profitable to dawn the look. But I guess I should be a bit more broad minded and share a little more of the info that I found.
3-Fins, a company from Vancouver, was started my Monika Naumann. Naumann who sells mermaid tails made of shimmering shades of bathing suit material, says that she was inspired by her daughters' obsession with mermaids. (Right now I am wondering just how old her daughters are.) This is when I start realizing how little I know about today's swimwear market. This woman is selling these 'tails' for $245 plus shipping and has gotten coverage on Today.com.
Naumann says that her customers are pleased with this product that helps to fulfill their child's fantasy but the product is also for adults, claiming that you get a great workout and you can swim faster than you can imagine in the ocean. Again - I want to see you get from your beach towel to the water. Better yet, I want to see the fear on the faces of the life guards who know - - -
In all fairness, I will show you a few pics and share a video. They are pretty but I am pretty certain that they should not be in the same category as a swim suit.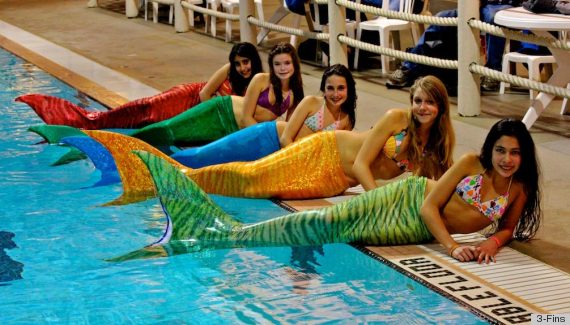 I want to
fish
wish Monika good luck with her venture but I don't think she needs it. I should probably be asking her for marketing advise.